You look at a dish like this and you're thinking "Absolutely!"
Well, there's more than meets the eye in this case.
The mushroom delishiousness you see before you was created by Chef Daniel Humm at Eleven Madison Park, one of New York's FINEST restaurants.  Every single bite in his tasting menu BLEW MY MIND, as I expected it would and the price tag would suggest it should. Let's see another plate shall we?
Fresh ground raw carrots with flavors on the side.  They suggest you mix them all in.  Here you see the waiter grinding the carrots in a meat grinder at our table.  Such a unique presentation.  And each course delivered more of a production!
After 8 or so courses, I  understand why EMP (as the foodies call it) is an NYC institution.  The vaulted, yellow-lit dining room is beyond stuffy, but I forgave that after I could not stop raving about the second course.
However, such overwhelming satisfaction was not the case with my experience at Humm's new-ish, trendy outpost – The NoMad – where his famous $80 roasted chicken left me bored and hitting the door without dessert.  As many foodies tell me, I'm crazy for making this claim (the chicken made Jerry Seinfeld cry apparently), but my taste buds, my money, my disappointment.
So how do you know if you the restaurant everyone is talking about is worth fighting for a reservation, possibly sitting down at a ridiculous hour (6:30pm or 10pm), and then paying what seems like an arm and a leg for your dinner?  The answer is:  you just don't know.  What I can give you is your best bet: follow the restauranteur/hospitality group you love, not just the chef.
In my recent travels and current stint in NYC, I've tried a handful of new restaurants, all of which received winning reviews from either publications or my foodie friends.  Some lived up to their accolades, others did not.  What I should have used to decipher whether or not I should go after the referral was their previous venues.  You'll see how the role of the hospitality group plays out in my personal winners and losers below.
Just like the NoMad, everyone and their mother can't get enough of Jean-Georges' Chelsea restaurant helmed by Chef Dan Kluger.  JG is a bit of unique case because he's a chef and restauranteur.
I've eaten at ABC twice now and cannot wait until my next visit!  Kluger delivers the freshest farm-to-table food in Manhattan in the most delightful way.  His food is intricate without being unapproachable.  Coupled with the beautifully-appointed dining room, dim lighting (a must for me!), creative wine list, and celeb scene, ABC Kitchen makes for the perfect NYC dining experience.
Even the chocolate chip cookies were so unique I ordered another plate to take home!
I hate wasting my time to write about this new Upper West Side taco, burger, pub, diner, whatever they want to call it.  But I will just to warn you, DON'T GO!  A friend referred me so we went last week for a quick bite.  The service was slow, the staff uninformed about the preparations, the food itself was overcooked and cold, and the drinks were hardly existant because the bartender rarely came around to ask us what we wanted or needed. And we were sitting at the bar!  It was so bad I felt the need to speak with the manager (very politely) at which point she insisted we not go elsewhere, but instead we should stay and she would send us out a bunch of food.  At this point, we're starving, so we stayed and waited for what seemed like forever before this buffet of bites came out.  Honestly, it was just as bad as the first round we had ordered.  I really wanted to like it because she was so nice, but bottom line, the food was terrible.
This East Village hot spot is everything I want in a New York City dining experience:  interesting decor, a variety of food at a range of prices, a moderate-sized bar with interesting bartenders serving up inventive cocktails, and a lively, intimate scene.  I usually prefer to eat at the bar by myself or with one other person instead of the dining room, so the bar is a big deal for me.
When I found out that the venue was opened by the same hospitality group as one of my favorite spots Public, it made sense why I liked it so much.  They have the formula down!  And most importantly, the food is solid.
As a person who doesn't like The Breslin due to it's very pork-centric menu, I should have known that an oyster bar/raw fish restaurant opened by the same chef would probably not be a place I would want to eat.  I like fish, but usually not raw.  And I hate oysters and lobster.  I'm not sure why we walked in and sat down….probably had something to do with the young crowd inside and the variety of beers on tap.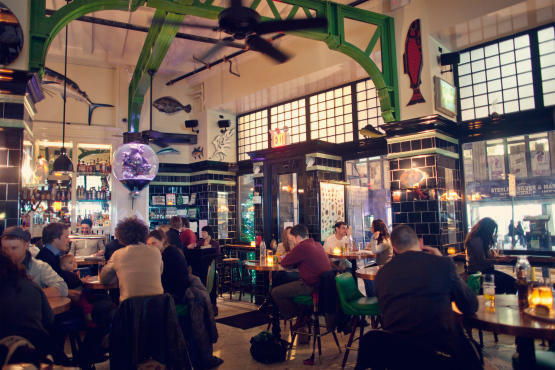 If you like all of those things, I suggest you go.  However, I caution you, the prices seem high for the small slivers of fish that are put down in front of you.
(Full disclosure: no media rates were extended for these reviews.  John Dory photos not mine, click the image to link to the original source.)
Tweet this!